Le HuffingtonPost, February 9, 2015, Strade, February 10, 2015, kontury.info, February 11, 2015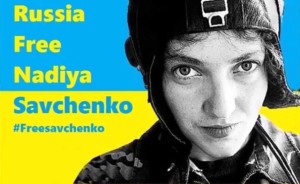 Dear Captain, dear Nadiya,
Though I was not optimistic, I did hope a little, a very little bit, that Mrs. Merkel and Mr. Hollande would bring you back with them from Moscow in their « luggage ». After all of the violations of Russia's recent, and not so recent, commitments, such a concrete gesture would have given an ounce of credibility to Mr. Putin's declarations that he truly wanted to negotiate. Alas, this was not the case. The Chancellor and the President returned empty handed.
You are still in Moscow. In prison. And you are pursuing your non-violent action. I, along with hundreds of thousands of people around the world, am worried, we are very worried. To the extent that I too have practiced the form of non-violence that you have chosen, I too know a little bit about what a hunger strike means, I too am a little bit familiar with what you must feel like now, with your mind focused on the objective before you.
As I was thinking about your situation, a friend of mine wrote to me from Australia, a friend from many past non-violent struggles. He wondered out loud and asked me pointedly how one could use non-violent arms to attempt to avert the tragedy in Ukraine. Thus I have two pressing concerns today: one is your effort to exert your rights and have them respected; the other is the need to understand how one can approach the question of Ukraine using non-violent arms. These concerns force me to write this letter to you asking in all humility that you end your hunger strike.
No one better than Ghandi, I believe, has summed up the essence of non-violent action: it is the force of truth. But this assumes that one's interlocutor has the ability to hear the truth as it is proclaimed by the person engaged in non-violent action. This was the case with the independence movement in India which was certainly faced with a colonizing force, but also with authorities representing the Rule of Law, with a democracy, and with many citizens and responsible politicians who were deeply attached to democratic values and to the Rule of Law. It was also the case with the Civil Rights movement of Dr. Martin Luther King, Jr., who fought against enormous racist prejudices, but who also was faced with the Rule of Law, with a democracy, with people who were capable of hearing the truth, of understanding that racial segregation was incompatible with that same Rule of Law and with that democracy.
The context in which you find yourself is, unfortunately, not analogous. What stands before you is a regime where, as Peter Pomerantsev has said, « nothing is true; everything is possible », a political system which is not only the negation of the Rule of Law and of democracy, but its very antithesis. At the head of this regime sits a person who is dead to life, a person who has given the green light to the elimination of dozens, hundreds, thousands of people. In St.-Petersburg, in Moscow, in Volgodonsk, in Grozny, in Mariupol, in Debaltseve, …
Dear Nadiya,
I know that choosing the alternative – choosing life – is also difficult. It means imprisonment in the conditions of the current Russian prison system. I also know, as the Magnitski affair in particular has tragically taught us, that this imprisonment is not without risks, and that it will undoubtedly be long, for the process of mobilizing democracies is long and slow. But your life and your strength are precious: they are precious to us. You are a magnificent symbol of resistance and determination. We need you for us, here, in countries where it is possible, to be able to continue and intensify non-violent struggle so that the governments of the western democracies take with appropriate seriousness what Mr. Putin's deadly Russian regime represents, and so that those democracies finally act accordingly.
Many have already fallen in Russia, in Chechnya, in Georgia and in Ukraine. We need you, alive, to continue this struggle for freedom and democracy in Ukraine today, and in Russia tomorrow.
With all of my esteem and friendship.
(Translation: Anis Memon)